Hi...
It's me again...
back to annoy the living daylights
out of you all.
Well we had a great time while on holiday.
I won't bore you with all the ins and outs of it,
suffice to say it was magic.
The milleu bridge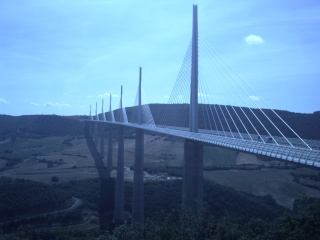 We visited....
Tunisia..Slovenia..Croatia...Bosnia+ Hertsagovenia
Montenegro...Albania..Greece..Turkey..Bulgaria
Rumania..Hungary...Poland ..Denmark..Sweden.
We crossed the Stodebaeltspoen bridge in
Denmark...
now that;s what I call a bridge.
Flexing my muscles
aboard the grandi veloci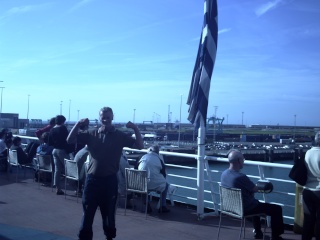 Met lots of great people....
apart from one.
Out of all the different nationalities I could have bumped
into..It had to be an Englishman.
As I was leaving a slip road out of Nice airport...the guy
decides to give me marks out of ten on my diving abilities.
He ploughed into the back of me...causing me to do a triple
somersault with half pike..landing ever so graciously on
my butt.
.battered and bruised I quickly got up to see my bike
minus rear lights and pannier...how I cried........
with the culprit mumbling in my good ear....
." .I thought you were going to go straight on mate".
"What...and just ignore the twelve wheeler passing
in front of me?".
Fortunately...
I managed to complete my trip with
the aid of lots of sticky tape and
a little luck.
one of the few days it rained
The biggest pub in tunis
was closed
You'll notice i'm minus one box now...